I've been with men. Chyea. All the wrong ones.
Lately i've been thinking alot about my choices in men. How sucky they are, really. I keep fighting myself from going back to Jason, cos that would be settling. Seriously, and not just cause he looks like their offspring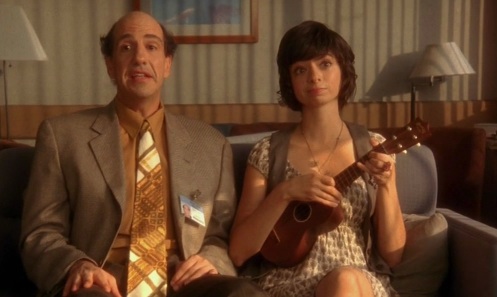 but because he is NOTHING that i want in a person that i'd be happy with.
But, i've spent so much time thinking of his qualities i dislike, I decided it's time to STOP that and instead, start thinking of the qualities i DO want in a person.
So, let's start.
1. I want a cute guy. With an awesome smile. A face that when i'm mad, i see it and i'm not mad anymore. [Seeing Jason's face used to piss me off]
2. I want a guy who isn't in to the bar scene as a nighty routine [that was like the ONE good thing about Jason]
3. I want a guy who likes my mom. Because she rocks.
4. I want a guy who goes to church with me--not just to 'worship' but because he wants to spend time with me-- and thinks its cool that we take the ferry every weekend and get mexican afterwards. YUM.
5. I want a guy who WANTS to do family things--- like go to the pumpkin patch in October, the zoo in the summer, the tree farm in December [Jason isn't do a thing for the holidays and never just wanted to take the kids out]
6. I want a guy who loves to be close. Hand-on-the-thigh-at-all-times close.
7. And who has the same crazy sex drive as me.
8. I want a guy who has a hobby. That isn't watcing Nascar.
9. I want a guy who likes my friends.
10. And a guy who wants to paint the walls bright instead of forest green with tapestries.
11. and a guy who thinks its awesome that i have purple christmas lights up year round and use skull 'n cross bone plates.
12. i just want a man, a very good man.
WHO DOESNT!?!
//siiiiigh//
Oh, and going through old pictures, i found this, and liked it. Once upon a time I was 18 years old.